Custom 3
Sherry L. Kingsley (March 30, 1945-Dec 3, 2008)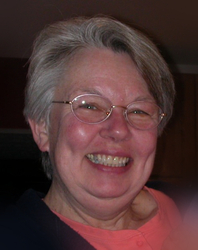 Sherry L. Kingsley, 63, of 8384 State Park Rd, Three Mile Bay, died December 3rd, at home under the care of her family and Hospice of Jefferson County.
She was born March 30, 1945, in Buffalo, NY, the daughter of Paul and Doris (Golnick) Arber.
She married Charles Bruce Kingsley, on December 30, 1967, in Buffalo, NY.
Mrs. Kingsley received an associate's degree in Dental Hygiene at Erie Community Technical College.
She worked for Dr. Joseph Prignano Dental Office and resided in Marlborough, CT for 29 years.
She was a member of the Lioness club and a Girl Scout leader there.
She retired to Three Mile Bay in 2000 where she was an avid gardener and an active board member for the Methodist Little White Church, Point Peninsula, NY.
Surviving besides her husband are a son and daughter in law, Hubert and Christina Kingsley, Marlborough, CT; a daughter, Jennifer Kingsley, Woodstock, CT; a brother and his wife, Richard and Darlene Arber, Denver, CO; a sister and her husband, Sally and James Acord, Pendleton, NY; 2 grandchildren, and several nieces and nephews.
A memorial service will be Saturday December 13 at 11 A.M. at the Three Mile Bay United Methodist Church with Rev. Mark Pierce officiating.
A luncheon will follow the service at the church.
Arrangements are with the Becker-Cleveland Funeral Home, Chaumont.
In lieu of flowers contributions may be made to the Little White Church P.O. Box 116, Three Mile Bay, NY 13693 or Hospice of Jefferson County 425 Washington St, Watertown, NY 13601.
Any Questions please call the Cleveland Funeral Home 315-788-6180