BS Recreational Farm Toys
Toys to have fun with.....
The Toad
The Toad gives new meaning to 'Mr. Toad's Wild Ride'.
This off-road 4x4 all terrain vehicle is used for joy riding around the farm, patrolling food plots and transporting hunters and visitors. It can takes down small trees and other items in its way.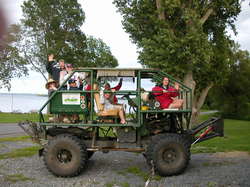 The Imp
The Imp is used for wintertime fun. The tracks allow it to navigate the Upstate New York snow and ice in comfort.
While it can go on ice, it is not recommended to travel on thin ice.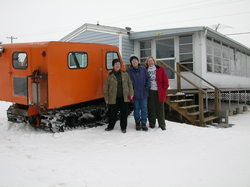 Inboard Boat
This treasure was built by hand from scratch by Bruce at the age of 17 as a high school project. It has been in the family ever since. Used for water-skiing, saucer-boarding and tubing, this boat provides hours of fun on the water. Be cautioned, the actual speeds the boat will reach are NOT for the faint of heart. Do not request 'all out' if you have a heart condition (or a wig).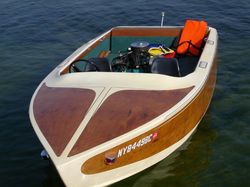 .
Wait till you see this!! Click above to see the details....
The Snorkel
Perhaps the highest 'tree stand' on the Point? The Snorkel reaches a height of 60'. It has been instumental in Paradise North projects including:
- the new roof on the barn
- siding the house
- the new roof on the Little White Church
- siding the Mason Lodge
- and many, many other projects and fun things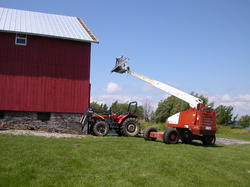 The Air Boat - winterized....
It's like a plastic kids sled with power. It slides so well, it requires much less power and it is smoother on snow covered fields than the bay. The ice in the state park bay was covered with snow. It didn't take much and we were cruising at 30 MPH. If you look closely, on the transom there is what I call the ice brake. It has spikes that dig into the ice and act like a brake. You have three limbs going. Your left arm turns the rudder, right foot on the throttle, and the right hand on the ice brake. You go into a turn with the throttle and the rudder, but then you are sliding sideways. Then you need the ice brake. Let off on the throttle and you go straight ahead.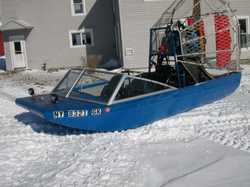 Paradise Mobile
The 1993 Coachman Santara is 32' long and boasts a Cummins diesel engine. (Good thing Bruce got the school bus for the DUKW or 'Tara' would have been in trouble

)
'Tara' has been on two southern ventures and has transported the family to outings etc. She has occasionally been used as extra bedrooms when the farm house gets too full.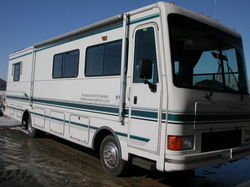 1930 Farmall Tractor
While this 1930 Farmall Tractor is past its prime, it has found a spot to spend the rest of its days as a lawn decoration at Paradise North.